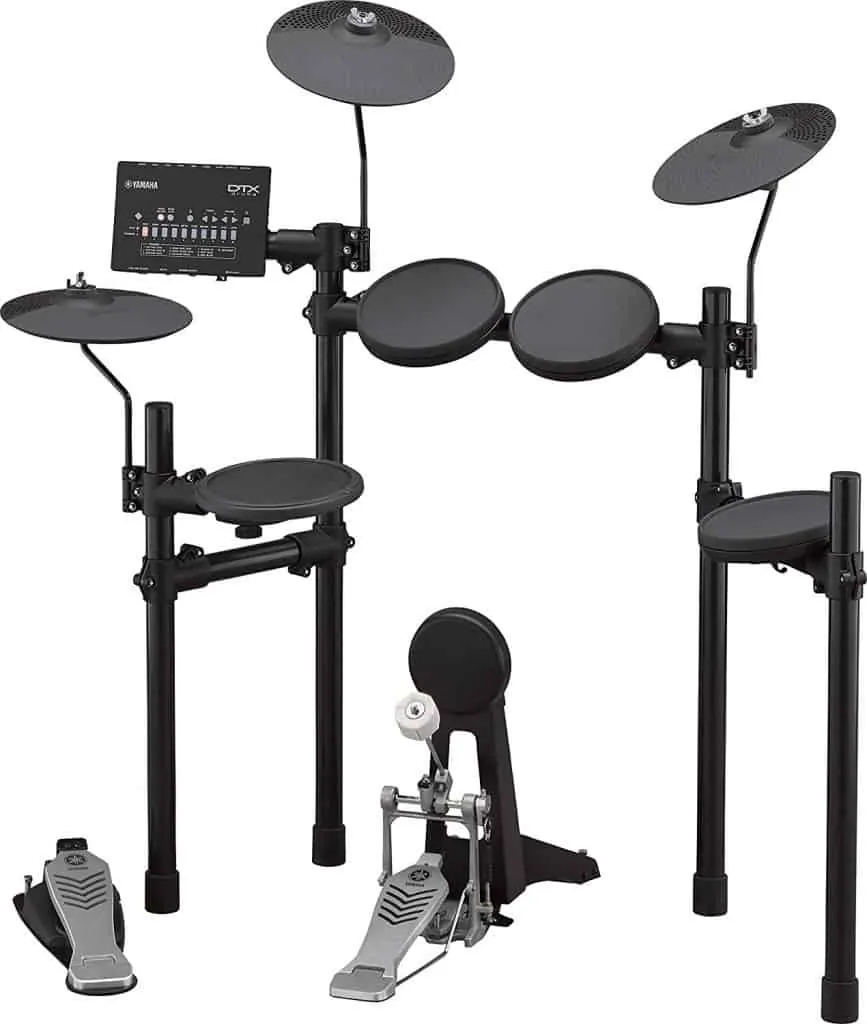 The DTX402 is a ten-piece electric drum set by Yamaha and an entry-level model that's designed to help the beginner quickly build their skills using the included drumming pattern programs. This model comes loaded with ten training functions and ten songs, both of which will help to improve your timing and rhythm and muscle memory.
This is a set that was designed specifically for the beginner, which is why it comes with a huge selection of training modules, sound options, and an intuitive design that makes this set easy to adjust and experiment with.
Our Verdict
This electric drum set comes loaded with all the right training features including two apps, ten training modules, preloaded patterns, and over four hundred sound options. It's designed to help the drummer improve their speed, timing, rhythm, and more.
Overall, despite the fact that the set is equipped with rubber drum heads instead of mesh, it provides the type of realistic sound and feature options that will help the beginner achieve the type of sound they're after, in a matter of weeks with consistent practice.
Keep on reading to learn more about this entry-level electric drum set and find out if it has what it takes to teach beginners how to drum with speed, style, and power.
Yamaha DTX452K Review: Overview and Features
This set includes ten stereo drum samples and the type of responsive rubber pads that provide a realistic playing experience. It also features an ironclad four post drum stand for ultimate durability.
The ten training programs can be accessed using the Yamaha Touch app on your Android or iOS device. The additional Rec N' Share app allows you to record and share your drum covers with family and friends.
Additionally, this set comes equipped with a kick drum tower and an adjustable pedal and hi-hat controller for a more realistic sound.
Sounds
This set provides instant access to over four hundred percussion sounds and a variety of other tones for genres including EDM, metal, rock, pop, and more.
Yamaha Electronic Drum Set DTX452K
Hardware
The included ten preset kits can be easily accessed using the dedicated button. Other popular features include the training modules, play along songs, volume and tempo controls, the onboard metronome, and much more. The Touch app gives the drummer more editing control over a track and allows the user to experiment with new sounds and effects.
Kick Tower and Hi-Hat
This set comes with a great sound module and pads, not to mention an adjustable hi-hat controller, which allows half-open sounds. The kick drum tower and pedal combined with the hi-hat provides a realistic sound.
Cymbal Pads
Better-feeling drum and cymbal pads consist of responsive rubber pads. The drums themselves are dynamic and fast, while the cymbals can be choked for a more realistic sound.
Stand
This model comes with a new and improved rack system. The cymbal and hi-hat pads rest on adjustable, offset cymbal arms for improved adjustability.
App Compatibility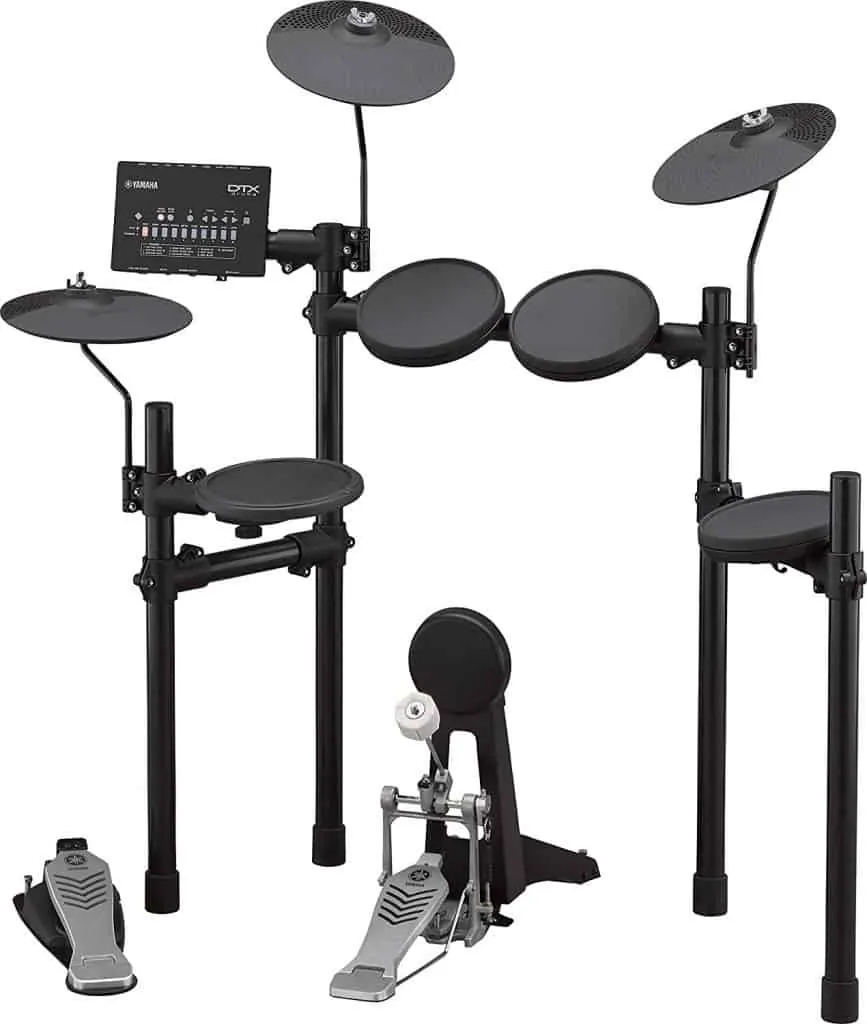 The Rec N' Share app for iOS devices sends audio and video from your drumming performance directly to your smartphone or iPad. Now, you can easily share your hard work with bandmates, friends, and family.
You can even upload videos to YouTube. All you have to do is choose a track from your iOS library, search for the sounds you're after and play along.
Drum Kits
The Touch app makes it easy to access this set's kit building features. With this app, you can balance and tune cymbals and drums and choose sounds, or you can pan right to left, mute certain pads, or add reverb.
The app's Rhythm Gate and Song Score Gate will make you a better, tighter drummer. Regardless of your skill level, these features will help track your progress, providing you with a clear view of where you need to focus in order to become a better drummer.
Building Speed
The included Fast Blast mode will keep track of how many strokes you can play in a determined amount of time. This feature is a great training tool that can help you build speed. It can also be a great way to compete with friends and put your drumming speed skills to the test. To learn more about increasing your drumming speed, click here to read our article on how to drum faster.
Pros
Built-in training modules
Ten drum kits
Over four hundred sounds to choose from
Durable rack
Highly portable
Beginner-friendly
Cons
Related Questions
Can You Recommend an Electric Drum Set that's Suitable for Advanced Drummers?
If you're looking for a drum set that you can use for live performances or in-studio use, then the Roland TD-17KVX Electronic Drum Set Bundle is a perfect option.
This set may come with a steeper price tag but it comes loaded with dozens of drum kit options, preloaded sounds, realistic sounding pads, and more.
Is This Set a Good Choice for Children?
Yes, aside from the fact that it's loaded with training modules, the drum rack is highly adjustable so it can be raised or lowered based on the height and reach of the drummer. The rack itself is very durable and stable, so it's designed for heavy use and won't move or shift when in use.
Conclusion and Rating
Product Rating: (4.5/5)
Finally, an electric drum set that's specifically designed for the newbie in need of training programs that will focus on a variety of areas such as technique, drumming style, speed, and timing.
This model by Yamaha is the best electric drum set for beginners. It comes loaded with a variety of drum patterns, training modules, and app compatibility, all of which are designed to make you a better drummer, whether you need to improve your speed, rhythm or timing.
The biggest drawback for this set is the fact that the drum heads are made out of rubber instead of mesh, which is said to be more responsive.
Overall, the set offers a wide range of training options designed to help you improve your drumming technique, style, sound, and so much more. We gave this set a rating of four and a half stars out of five.