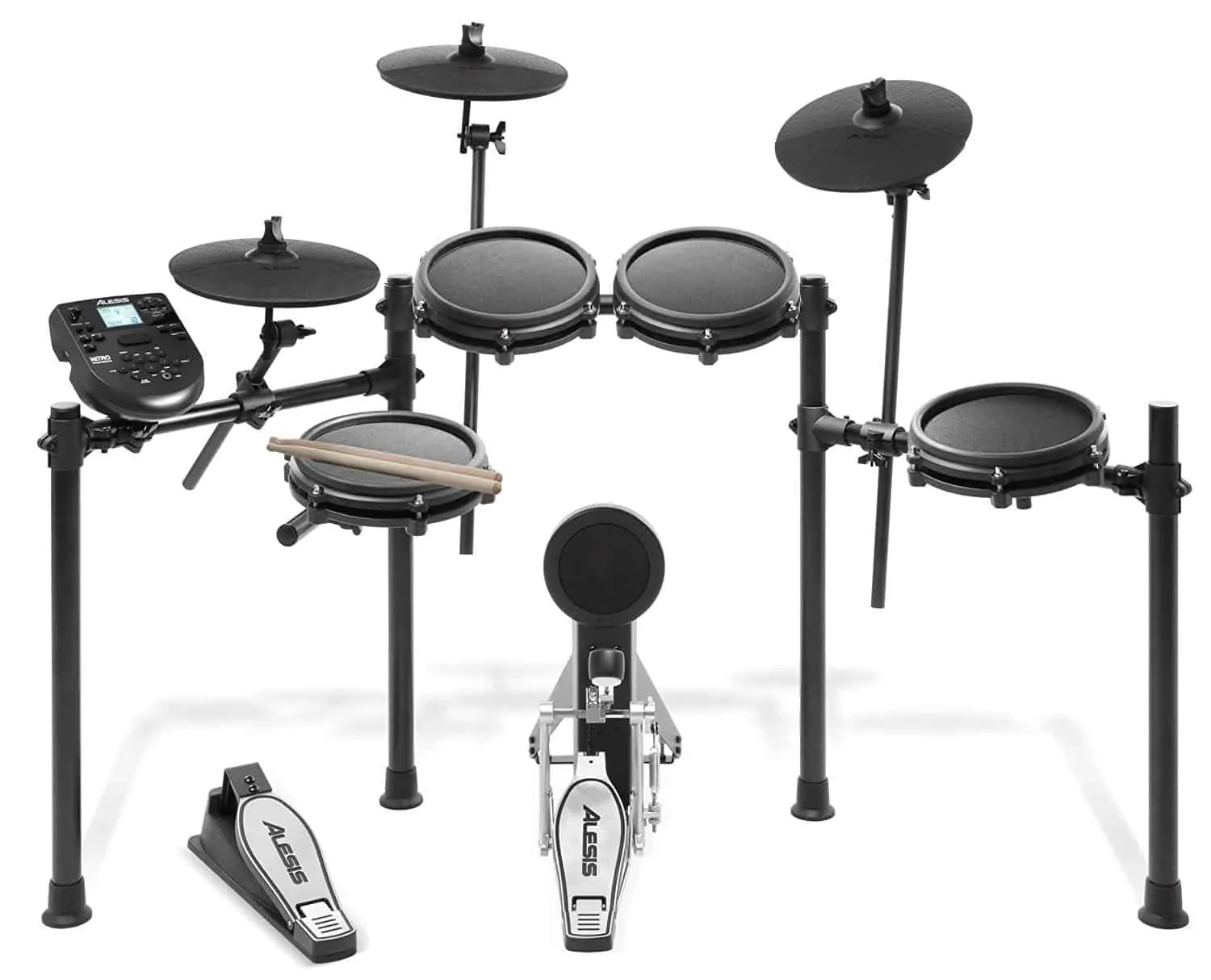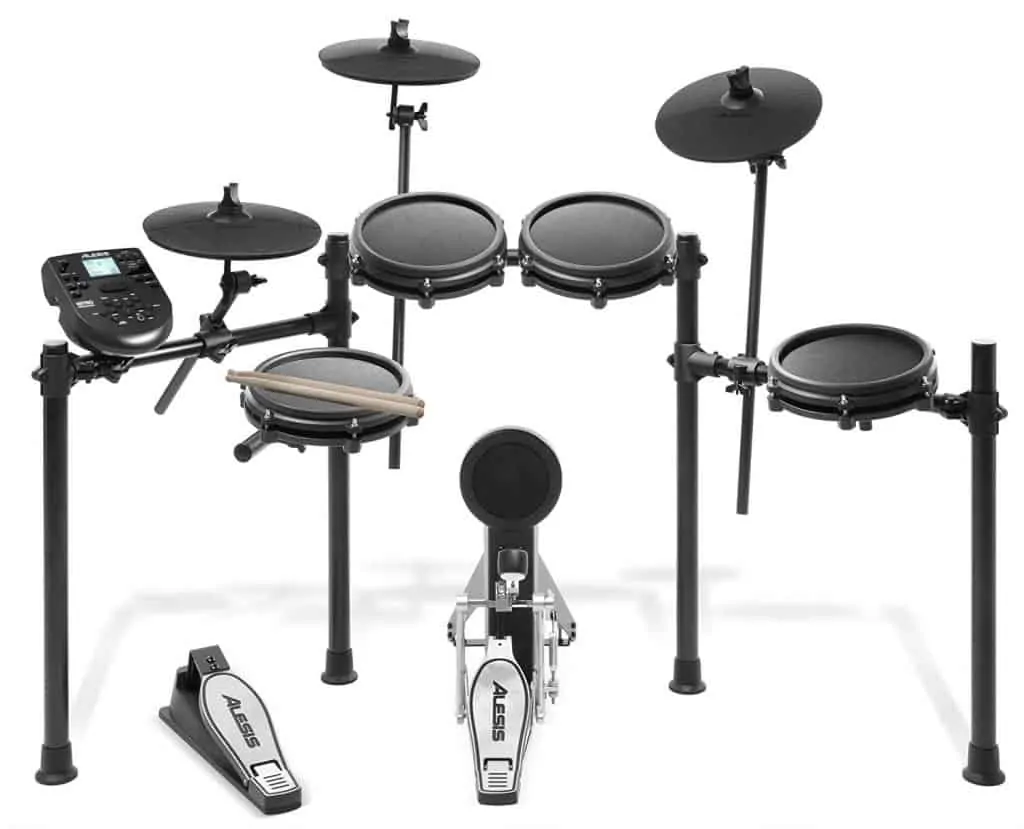 Alesis is a popular electric drum manufacturer that has made a name for itself by producing some of the most affordable models on the market. Their product line consists of a variety of sets that are designed for players of all skill levels.
Their newest drum set, the Nitro, is not only affordable, but its impressive sound makes it suitable for beginners and advanced players as well.
Our Verdict
The Nitro is a great buy for the beginner on a budget. While reasonably priced, we were surprised to find that Alesis didn't skimp on quality. Instead, it created a beginner-friendly electric drum set complete with mesh drum heads and a solid construction, which tells us this is a set that's designed to last.
As you can see, despite the fact that this set is designed for beginners, it still comes loaded with some great features that you wouldn't expect to find on a drum set in this price range. Read on to learn more.
Alesis Drums Nitro Review: Overview and Features
Unlike competing models, this low priced electric drum set is equipped with mesh drum heads instead of rubber, which instantly boosts both its sound and quality. However, the set's compact design may be a deal breaker for some players.
The Nitro is an affordable electric drum set that consists of four tunable drum pads, three cymbal pads, a kick pedal, a hi-hat controller pedal, and a kick pad. Because of the price, we weren't surprised to learn that the set doesn't come with any advanced features that you'll find on a higher priced drum set.
Design
The set's all-black design makes it look pretty impressive. Despite the price, the manufacturer did a great job of using high-quality materials to create this beginner-friendly affordable model.
Alesis Drums Nitro Mesh Electronic Drum Kit
Playable Surfaces
This set features a total of eight playable surfaces, with your basic five-piece setup including three cymbals, the kick pad, and four drums.
Snare
The snare is a dual zone model that allows the drummer to get a different sound from the outer rim and the mesh pad.
Tom Drums
For some, the biggest drawback is the tom drums which are single zoned.
Cymbals
The three cymbal pads include a chokeable crash, a hi-hat, and a ride cymbal. Each cymbal measures in at ten inches in diameter.
Drum Heads
Compared to past electric drum sets produced by Alesis, the mesh drum heads are a huge upgrade. Their past models commonly came equipped with your basic rubber pads. Many buyers were pleased with the mesh option which is said to offer a better response and overall sound quality.
Mesh drum heads can be found on both acoustic and electric drum sets and they're made out of nylon material that's woven together at a ninety-degree angle. These heads are made to be extremely quiet and feature a design that's durable and responsive. They're superior to rubber pads in terms of their realistic feel.
Noise Level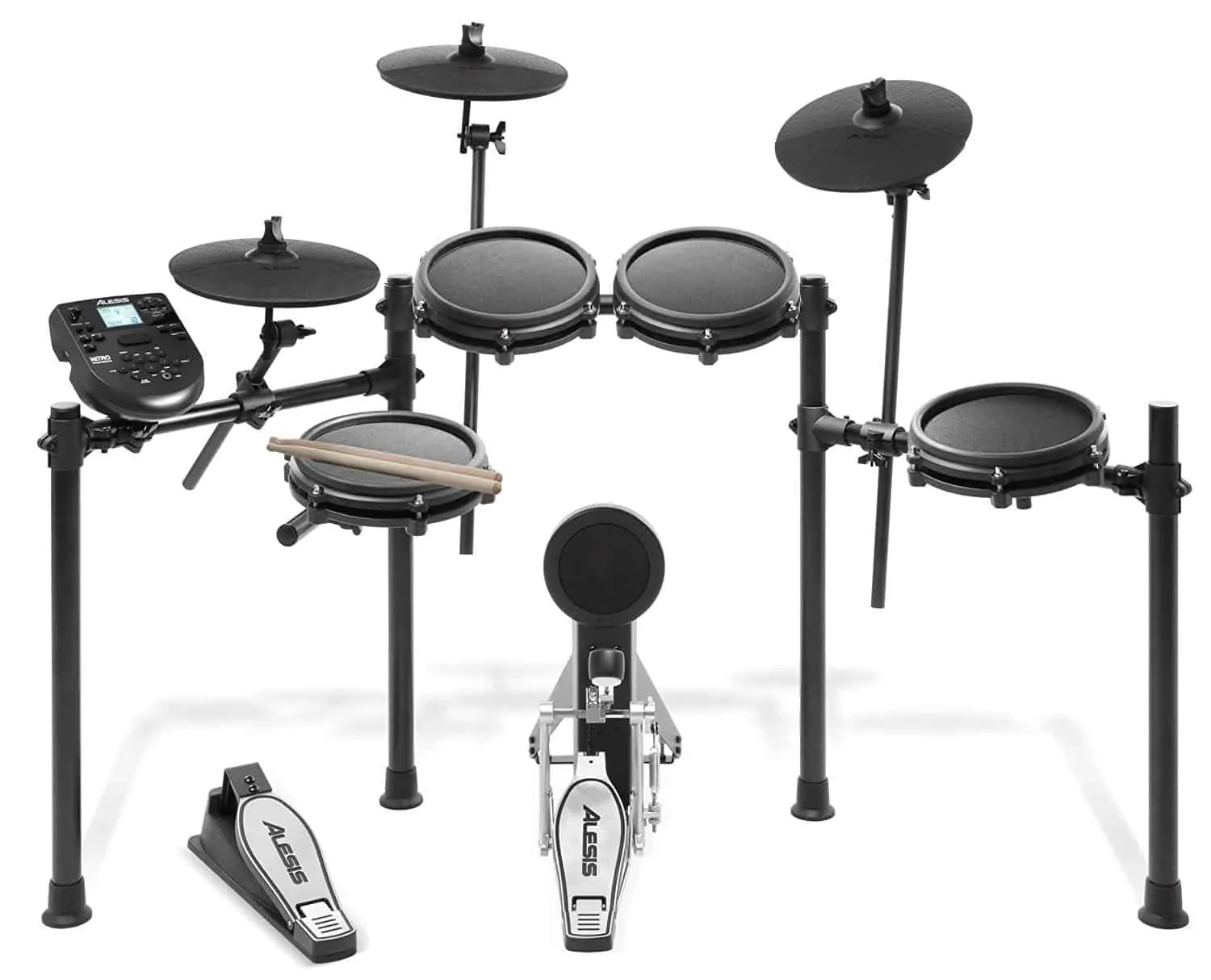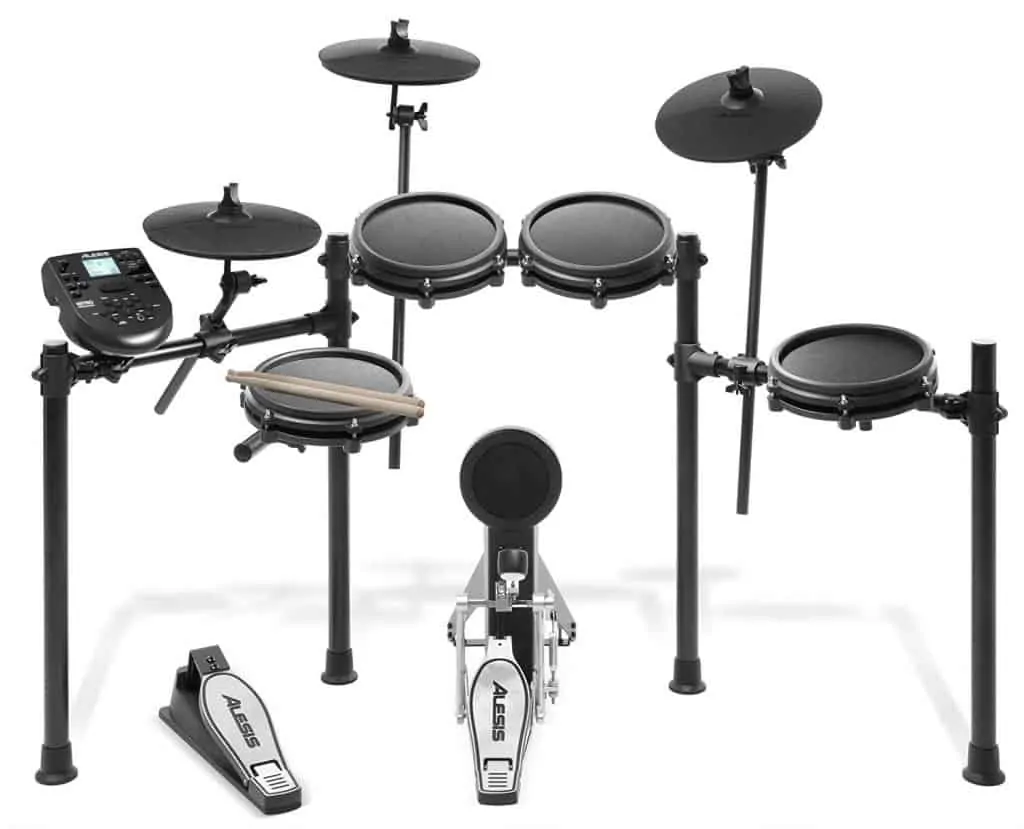 In general, electric drums are usually much quieter than acoustic drums, however, they're not exactly whisper-quiet. Yet, rubber pads are much louder than mesh pads.
Compact Design
For drummers over six feet tall, the height of the drum set can be a problem. If you're having issues with the size of the drum set, you can easily raise the rack up on the floor.
But another issue is the proximity of the pads. This kit is very small, so the user will need to become accustomed to playing on a more compact, tighter setup.
If you switch between your electric drum set and your acoustic set, you may find it difficult to adjust to each type since this model's setup does not mimic the design of a traditional set of drums.
Assembly
The included instruction's manual isn't well-detailed or very easy to follow, which can make it difficult for beginners to assemble. If you find yourself struggling to put this set together, make sure you contact Alesis customer support.
Pros
Mesh drum heads
Low noise level
Reasonable price
Perfect for beginners
Great design
Cons
The drum set's compact design places the drum pads too close together.
Related Questions
Can You Recommend A Drum Set Designed for Taller Drummers?
As we mentioned earlier, the compact design of this drum set places the pads very close together. Additionally, the set may need to be raised for players over six feet tall.
If you're looking for a drum set that can accommodate taller drummers, we recommend the Roland Entry-level Electronic V-Drum Set, which is also budget-friendly and a great choice for beginners.
If you'd like to learn more about electric drum sets and the design options, and features, click here to check out our electric drum set buyer's guide.
Can You Use the Same Drumming Techniques on an Electric Drum Set that You can on an Acoustic Set?
Yes and no. This model, and others like it, feature a more compact setup which can require the drummer to switch up their playing style in order to accommodate this type of change.
However, if you choose a model that best suits your size, you should have no trouble adjusting your playing style during practice, whether you're trying to learn how to drum faster or refine your playing style.
Conclusion and Rating
Product Rating: (5/5)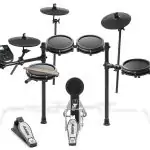 The Nitro by Alesis is an entry-level electric drum set that's priced affordably and comes equipped with some great features, including the mesh drum heads. However, this is not a set you would rely on in the studio.
Instead, the compact design and minimal components make it a much better option for the beginner or for the drummer in need of a drum set they can use at home for some late night practice sessions.
But despite its simple design, it's made out of high-quality materials and can be the perfect fit for the new drummer on a budget. We gave this model a rating of five out of five stars.