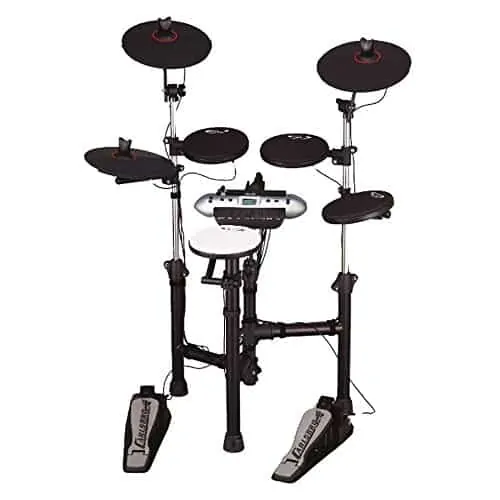 The Carlsbro electronic drum set is an eight-piece kit that comes with everything you'll need to learn how to drum like a pro, including trigger pedals, a kick drum,  hi-hat controller, and drum sticks.
This leading model is designed with the beginner in mind, but its collapsible design also tells us that this drum kit is also made for the drummer who doesn't have much floor space to work with in the home. So, if you're a beginner, or you're in search of a feature-packed electric drum set that can be stored when not in use, then this set may fit the bill.
Our Verdict
The Carlsbro electric drum set comes loaded with some great features including the twenty preloaded drum kits and the ten customizable drum kits. If you're looking for a drum kit that's packed with presets, then you'll love experimenting with this set's two hundred and fifty sound options.
The compact design makes this set more suitable for the beginner as opposed to the pro in need of a full-sized studio-quality electric drum set.
Continue reading to learn more about this set's innovative features, presets, and extras that can help the beginner learn how to improve their drumming technique and customize their sound.
Carlsbro CSD120XXX Review: Overview and Features
Carlsbro isn't as widely known as some competing major brands such as Roland or Yamaha, however, their extensive line of affordable, portable electric drum kits is quickly creating a buzz in the music community.
This eight-piece drum kit is the perfect size for apartment dwellers, bedroom use, or dorm living, due to its compact design. This is an entry-level kit, so it's perfect for drummers who want to make a smooth transition from acoustic to electric, and beginners in need of a small drum set they can use for daily practice.
Carlsbro CSD120XXX Electronic Drum Set
This set includes:
A dual zone snare pad
Three single zone tom pads
One crash cymbal pad
One ride cymbal pad
Kick drum trigger pedal
Hi-hat cymbal pad
Three footed-stand
Hardware
Power supply
Cable harness
Cable management strips
Drum sticks
Drum key
Drum module
Drum Pads
The drum pads in this kit offer a realistic feel and a highly responsive surface. The kit's snare pad features two zones, allowing for independent rim and pad triggers that you can strike at the same time for a more realistic sound.
The tom pads are single zone and don't offer the type of realistic sound the pros are looking for, however, they're perfect for beginners. Velocity and sensitivity can be adjusted based on user preference.
Cymbals
The ride and crash cymbal pads come complete with manual choke to prevent any ringing. In order to control the hi-hat you can strike the pad while working the foot pedal. Another foot pedal works as the set's kick drum.
Drum Module
The 120/130 drum module is the brain of this electric drum set. It comes loaded with two hundred and fifty percussion and drum sounds that have been arranged into a total of twenty drum kits.
There are ten extra drum kits that you can customize based on your skill level and playing style. Each of the preset sounds was created by professional sound engineers. The module's built-in reverbs also add to the module's sound quality.
Built-in Tracks
This set is a great option for beginners who need to perfect their timing and rhythm. The included twenty songs allow users to drum along to popular tunes that are easy to follow and can help to improve the user's basic drumming skills.
Connections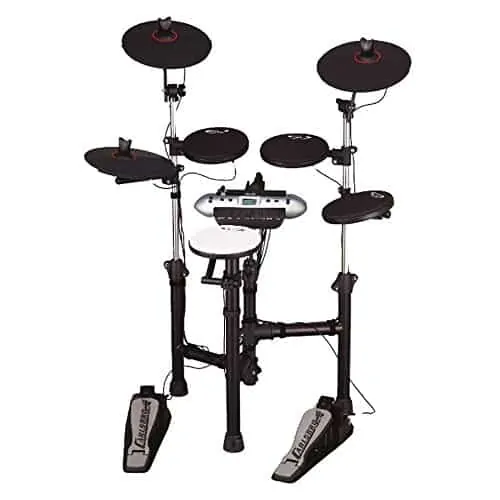 Use the Aux input to connect external devices such as MP3 players and CD players. The stereo output connects this system to any recording device or amp. The headphone output will allow you to plug in your headphones and play drums any time of the day or night.
Controls
The LED lit three-digit display gives you a view of the set's current settings.
Pros
Two hundred and fifty sounds
Perfect for beginners
Twenty professionally arranged drum kits
Ten customizable drum kits
Compact design
Highly portable
Very cheap
Cons
Not designed for advanced players
Rubber drum pads
Related Questions
Is there an Entry-Level Electric Drum Set that Offers a More Realistic Sound?
Many drummers feel that mesh drum heads provide a more responsive surface and improved realism. If you're looking for an affordable electric drum set with mesh drum heads then you'll love the Alesis Drums Nitro Mesh Electric Drum Kit.
This set comes with many of the same features that this lower price set does, such as preset sounds and drum kits. If you'd like to learn more about this popular model, click here to view our electric drum set buyer's guide.
Can I Use This Set to Improve My Speed and Timing?
Yes, but if you're used to playing on an acoustic drum set learning how to increase your speed and improve your timing can be a major adjustment, especially considering this is a compact set, which places the drum pads closer together.
Learning how to play drums faster with this set is possible if you focus on adjusting your playing style and start off with a slower tempo.
Conclusion and Rating
Product Rating: (4.5/5)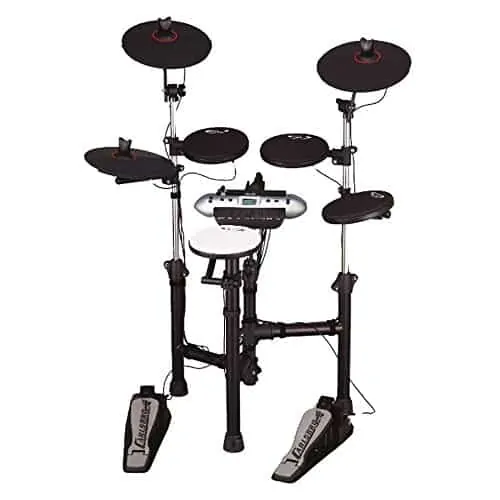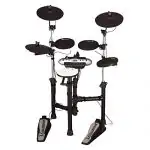 This Carlsbro electric drum set features twenty professionally arranged drum kits, ten customizable drum kits, and over two hundred and fifty sounds. Its compact design may make it suitable for homes that are short on space, but the smaller setup makes it a poor choice for professional use.
Additionally, the rubber drum pads do not offer the type of realistic sound that you'll get from mesh drum heads. Overall, this set is a great option for the beginner in need of a solid drum set they can rely on for daily practice sessions. We gave this model a rating of four and a half stars out of five.