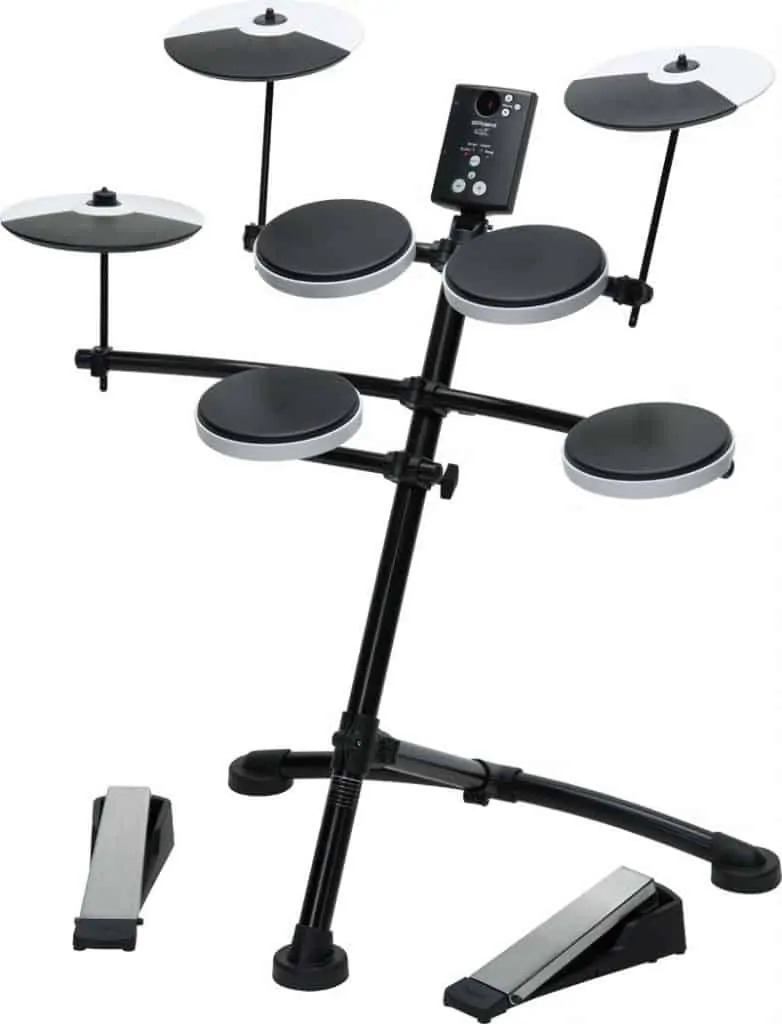 This entry-level Roland drum set will totally change how you think of electric drum sets. Aside from the fact that it's equipped with mesh drum heads, it's reasonably priced, which is one of the reasons it makes a great choice for beginners or seasoned drummers who are interested in making the switch from acoustic to electric.
Our Verdict
This is an entry-level electric drum set that comes loaded with some great presets, training patterns, an onboard metronome and much more. The responsive drum heads provide the type of realistic drumming experience that most players are looking for, but the set itself isn't studio or live performance worthy.
Overall, if you're a beginner in need of a tough reliable electric drum set that's designed to take plenty of use and abuse, then look no further than this model by Roland.
Read on to learn how this drum set performed when put to the test and what you can expect in terms of quality, and responsiveness.
Roland Entry-Level Set Review: Overview and Features
The set includes a highly adjustable, sturdy drum rack that's perfect for both children and adults. It also features mesh drum heads, which provide a more realistic drumming feel.
The three pairs of drum sticks, three gum rubber tom toms, beater-less kick pedal, hi-hat pedal, and the top of the line sound module make this one of the best electric drum sets for beginners on the market.
Since the drum rack measures in at thirty-seven inches by eighteen inches by thirteen inches, it's very easy to transport. It also weighs in at just thirty pounds, so hauling this set from show to show is a cinch. The drum rack itself is impressively sturdy, which is crucial for any drum set.
Roland Entry-level Electronic V-Drum Set
Rebound Quality
In terms of rebound, both the floor and rack tom pads provide a better than average response that most players will find pleasing. The included mesh snare also provides a rebound that is comfortable and realistic.
Kick Pedals
The kick pedals for the hi-hats and bass drum are highly adjustable and designed to accommodate drummers of all sizes. These also respond well even when you try out a more elaborate rhythm.
Cymbals
You can easily adjust the tension for the hi-hat cymbals, a huge selling point for any serious drummer. You can also achieve the splashed hi-hat sound by pushing the pedal. This will create the sound of the bottom and top of the cymbals hitting, a sound that's commonly used when playing jazz.
Both the crash and ride cymbals are chokeable.
Sensitivity
The bass pedal, mesh snare, and the toms are velocity sensitive. This is important for most drummers. When you play hard, the set will respond by increasing the volume, exactly like it should. When the drums are hit lightly, the sound will be much softer.
Sounds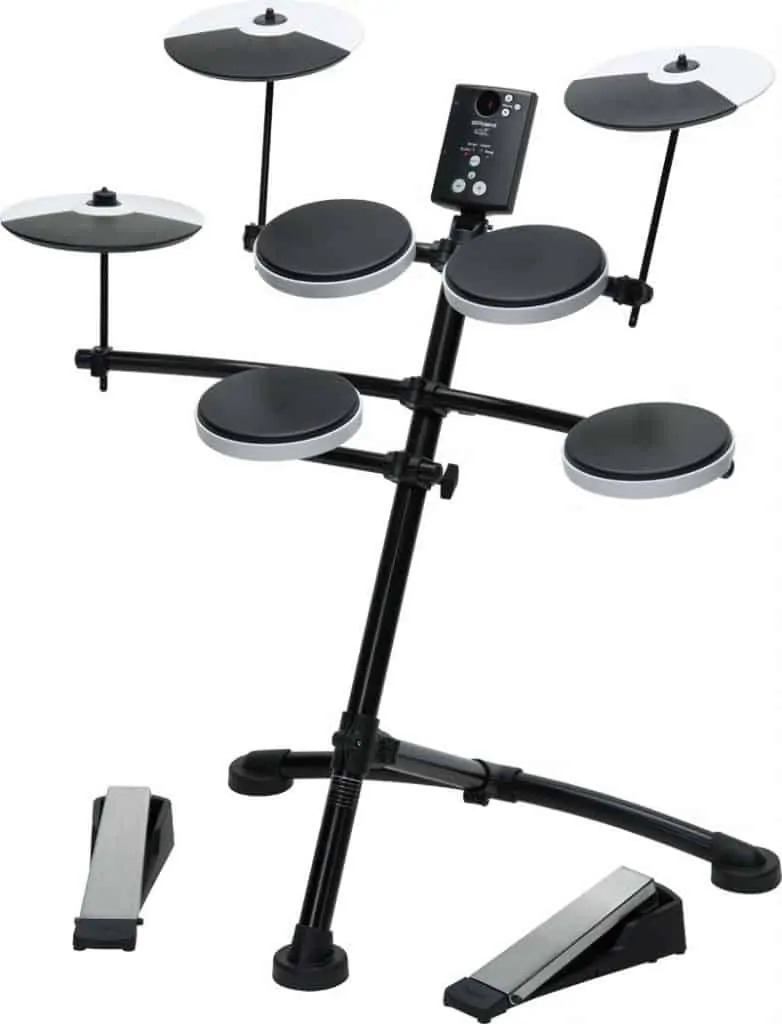 This set offers a total of fifteen sound options. If you want to expand your sound library, just connect to an external DAW via the USB port. With the use of a DAW, you can have more freedom to experiment with other sounds that you can download when using third party software.
Construction
If an electric drum set can't handle regular practice sessions and constant hitting and pounding then the set will be totally worthless in a matter of months.
This set by Roland is built tough and designed to withstand daily use. Its compact design will also save plenty of floor space, so it's a perfect choice for drummers who are short on space in the home.
Realistic Tom and Snare
The floor toms and rack toms feature gum rubber pads which provide a more realistic rebound that will be much easier on the drummer's wrists and hands.
If you've ever played on an older electric drum set then you may recall how tough they were on your wrists after just half an hour of practice.
Traditional drum skins provide the perfect amount of give, allowing the drummer to play without pain. But the rubber pads on older models of electric drum sets didn't have any give. Fortunately, that's no longer an issue.
The mesh snare is even more comfortable and provides the type of realistic sound every drummer is looking for. You can also use the included key to quickly adjust the tension for the perfect sound.
Pros
Fifteen sound options
Durable
Sound module offers a variety of teaching options
Space saving design
USB connectivity
Velocity sensitive
A great choice for beginners
Cons
Hi-hat and bass pedal do not provide a realistic feel
You cannot adjust the volume for the drums and music when played together
You can't use brushes on the mesh snare
Related Questions
Can I Use this Drum Set for Recording?
You can, but it lacks the type of realistic sound that most pros are looking for. This set is a better choice for home practice sessions.
If you're in need of a pro-quality, studio-worthy electric drum set, we recommend the Yamaha Electronic Drum Set DTX452K. This set not only offers a more realistic sound, but it's also loaded with hundreds of sound options and comes with some great extras.
What Makes this Drum Set a Better Option for Beginners?
This set features a simple layout, an easier setup and a durable design that can handle serious wear and tear. It also comes with several built-in drum patterns and an onboard metronome, which is perfect for the beginner who wants to work on their timing and rhythm.
If you're a new drummer in need of some tips that can help you improve your timing and rhythm,  click here to read our article on how to play drums for beginners.
Conclusion and Rating
Product Rating: (4.5/5)
This entry-level electric drum set by Roland comes with fifteen preloaded sounds and USB connectivity that will allow you to upload more sounds using third-party software programs.
For the most part, the drum heads provide a realistic feel, although some players felt that the bass pedal and hi-hat's sensitivity was lacking.
Overall, this durable set is perfect for beginners, but it doesn't quite have what it takes for the advanced drummer. We gave this set a rating of four and a half out of five stars.