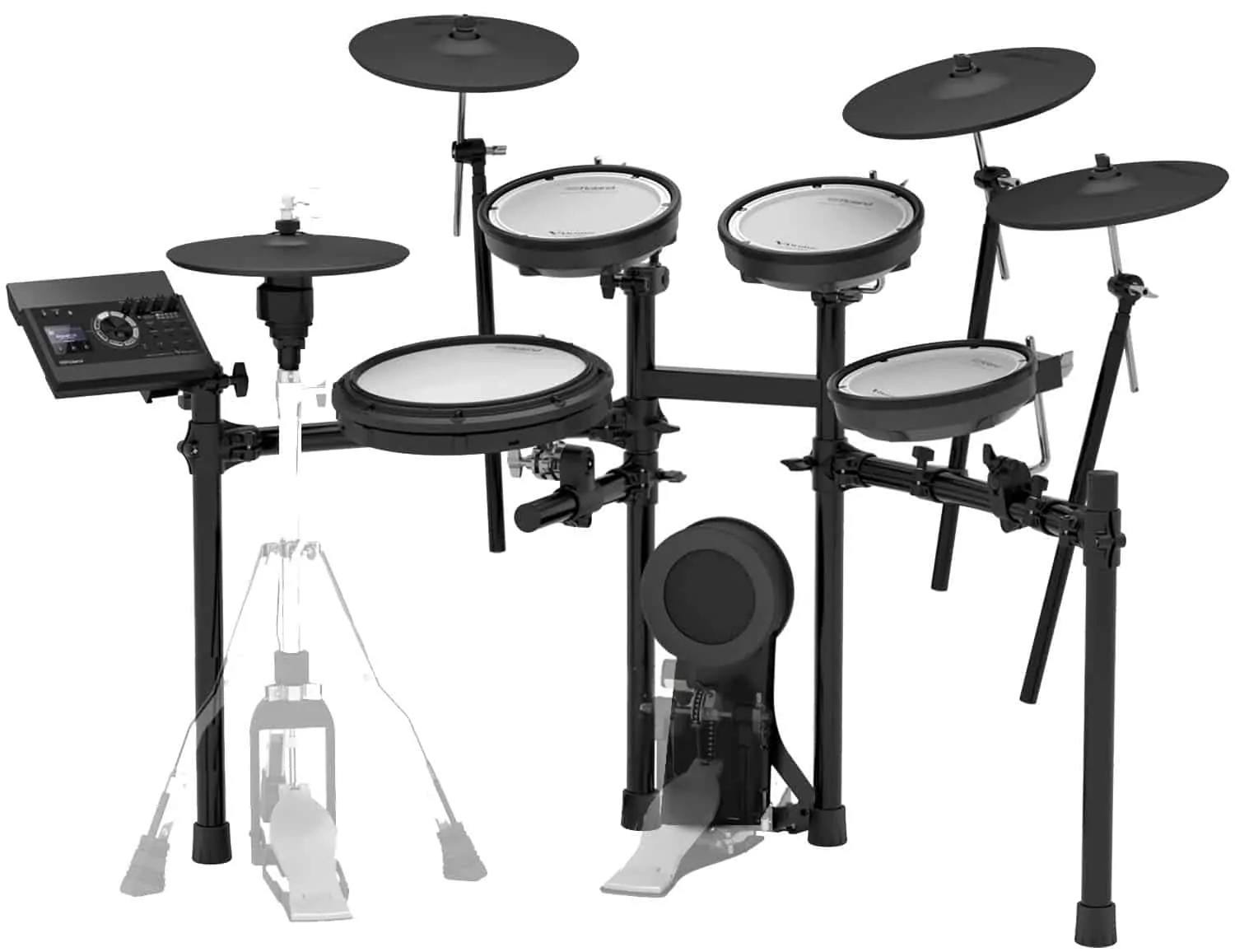 The TD 17KVX electric drum set is versatile, features great playability and connectivity, and is designed for drummers of all skill levels. It's both beginner-friendly and studio quality.
It will allow the player to hone their skills, test their limits, and create unique drum tracks that will showcase their talent and progress.
Whether you're a newbie or an experienced drummer, you'll love the ability to adjust your setup, create your own custom drum kit, or the set's lightweight design that makes it easy to transport.
Our Verdict
The 17KVX is designed for drummers of all skill levels. It's right at home in the studio, can handle a live performance, and can also be the perfect training tool for home use. It's loaded with some great features including the fifty preset drum kits, preset sounds, and the new and improved kick pad.
This model is a huge improvement over past drum sets produced by Roland, yet it still features the durable and intuitive design that electric drum sets by Roland are known for.
Continue reading to find out how this drum set performed when put to the test, get an in-depth look at the newly designed kick pad, and find out what you can expect in terms of quality.
Roland TD-17KVX Review: Overview and Features
Roland has remained one of the leading electric drum set manufacturers for years. With the release of their newest drum set line, beginners and experienced drummers are considering making the switch from acoustic to electric, thanks to the type of responsiveness and realistic sounds these popular sets have to offer.
This electric drum set offers a rich, natural dynamic sound and comes with some great extras including an audio cable, three pairs of drum sticks, drum throne, and polishing cloth.
The set is designed to teach the drummer pedal technique and expressive foot control using the KD10 kick pad. You can also customize drum kits, take advantage of the training modules, and create unique drum tracks.
This set is perfect for the beginner and serious drummer. While the set is available at a reasonable price it's packed with a variety of tools that all drummers will need to test their skills and improve their technique.
Roland TD-17KVX Electronic Drum Set Bundle
Bass Drum
The included bass drum is made out of soft rubber which is designed to minimize noise and enhance playability.
Inside the Box
This package includes:
Dual triggered snare pad
Three eight inch dual trigger toms
A couple of twelve-inch dual zone crash cymbals
Three three-zone ride cymbals
A ten-inch kick pad
Sound module
Drum rack
Upgrades
This set comes with some exciting upgrades that you won't find on past Roland electric drum sets. The new and improved hi-hat is lightweight and thin, which makes it better for fast footwork. The kick drum is much quieter so you can practice any time of the day or night and not have to worry about waking up the entire household.
The new and improved snare drum design offers greater playability thanks to the lowered rim.
Aside from these great upgrades, this set also comes with an onboard coaching function that allows you to keep track of your progress.
Sound Quality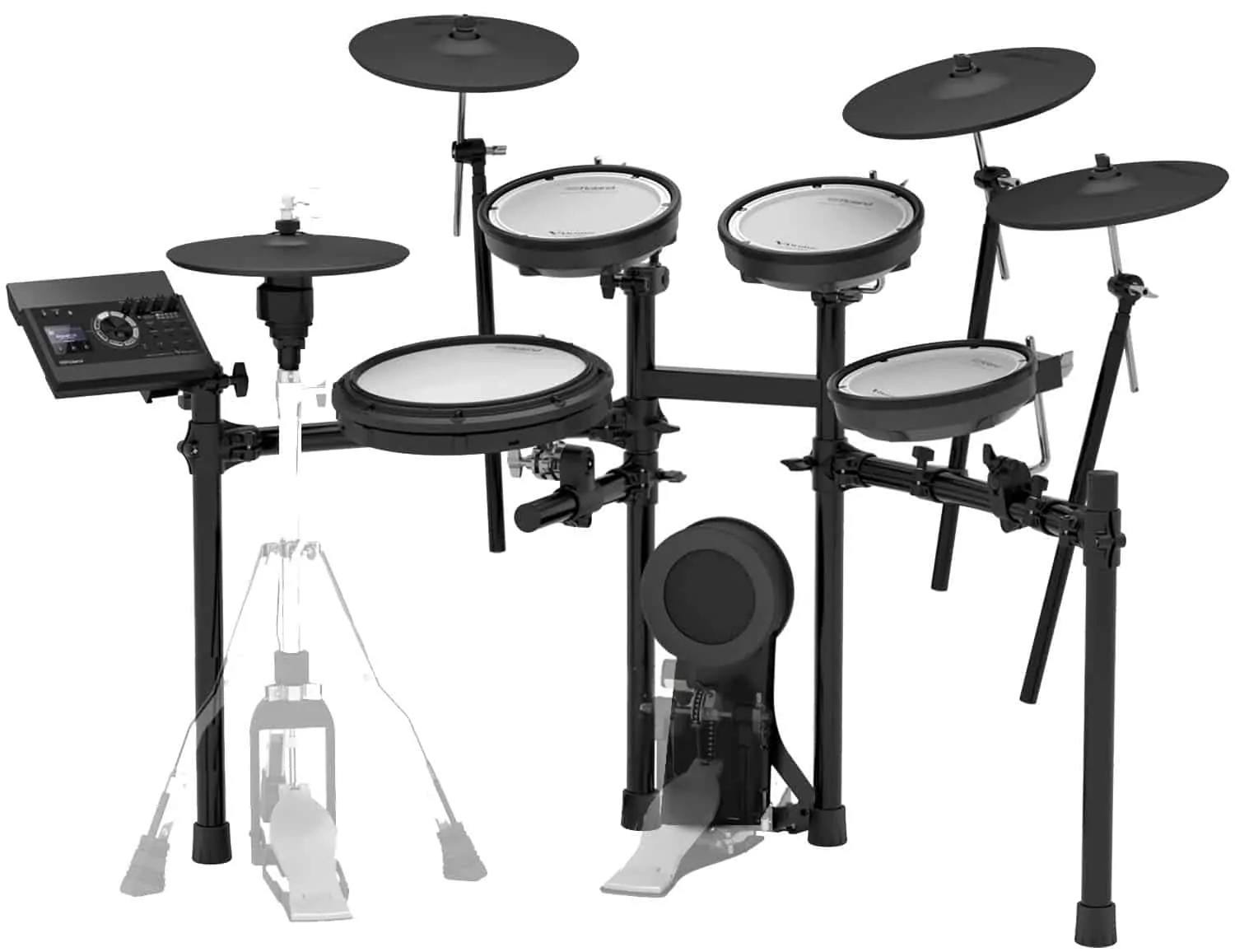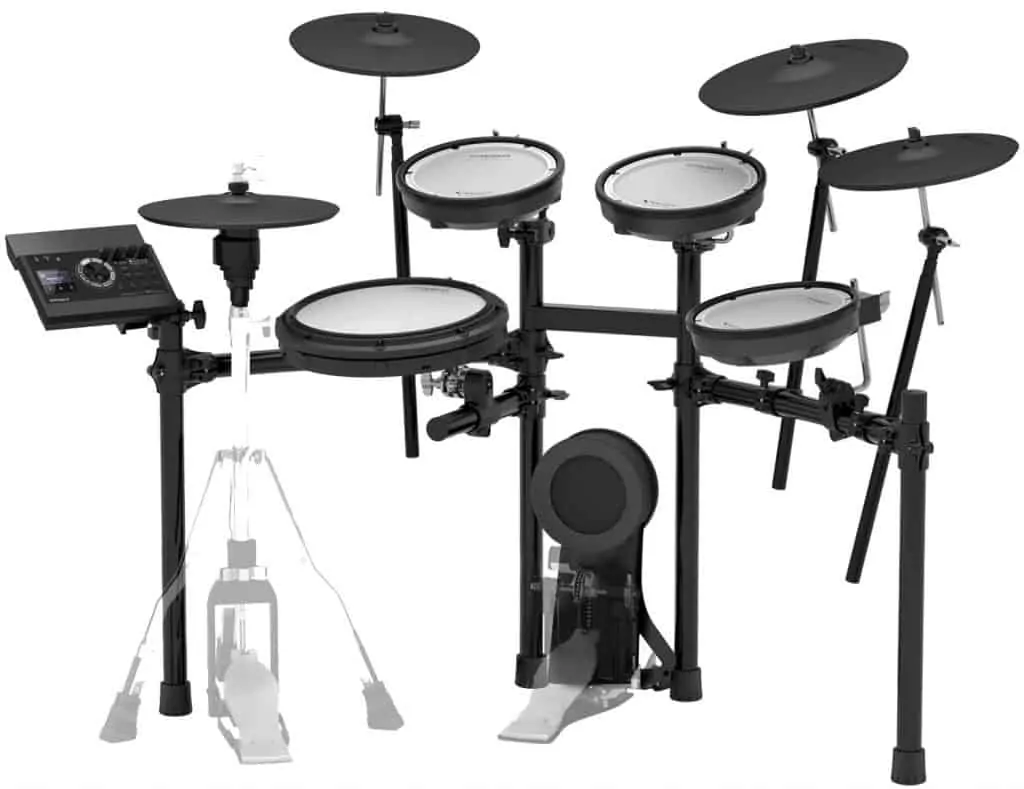 This set includes Prismatic Sound technology TD 50 sounds. This technology makes every strike sound unique. As an example, if you hit the ride cymbal, the first strike will sound very clear. When you hit it again the sound should be slightly different than the first strike.
This is where the Prismatic Sound Technology comes in. It will adjust the sound each time based on your playing style. This results in a unique sound which increases the set's playability.
The set's versatility depends on the drum module you use and its functionalities. This model comes with a total of fifty preset kits and over three hundred percussion and drum sound samples. You can also experiment with the different onboard effects including snare, buzz, and tuning.
Connectivity
This set offers a variety of connection options including the standard inputs. Using Bluetooth or the USB port you can connect this drum set to your PC or smart devices.
Play along to your favorite songs when you're connected to a smart device, Spotify, or YouTube.
The built-in SD card slot can handle up to thirty-two GBs.
Pros
Compatible with smart devices
Includes fifty preset drum kits
Allows you to play along to your favorite tracks via Bluetooth or USB connection
Highly customizable
Can be used for recording
Professional-grade sound
Durable construction
Cons
May be difficult for younger players to use
High price
Related Questions
Is This Drum Set Kid-Friendly?
Yes and no. If your child has some drumming experience, then it can be the drum set they need to take their skills to the next level. If you have a younger child who has never used acoustic or electric drums before, then this set may be overkill.
The Carlsbro Electronic Drum Set CSD120XXX is a better option for younger children and beginners. Its layout is much simpler, yet it still comes with preset sounds and training modules that drummers of all ages can use to perfect their timing and rhythm.
If you'd like to learn more, click here to read our article on how to play drums for beginners.
Can You Create Your Own Drum Kits?
Yes. This set allows you to test your creative skills by putting together your own unique drum sound by layering a variety of sound elements, onboard effects, EQ, pitch control, and much more. This is just one of the reasons many buyers feel that this is one of the best electric drum sets on the market.
Conclusion and Rating
Product Rating: (4.5/5)
The Roland TD is designed for drummers of all skill levels and comes with fifty preset drum kits, so you can master the basics of drumming, or brush up on your techniques.
The onboard training modules are perfect for beginners, while the kick bass and snares offer the type of responsiveness and playability that the pro drummer needs especially during a live performance or a studio session. We gave this set a rating of four and a half stars out of five.