Want to learn how to play drums faster?
If you're a beginner, I'd put that aside for now. It's not exactly easy to focus on both speed and sound quality when you're first starting out.
For the beginner, it's more important to focus on getting the basics right.
Since you're here, I'm assuming you've done that.
You're now ready to learn how to increase your drumming speed.
The good news is that anyone can learn how to drum faster.
The bad news: it is a process and not one that happens overnight. Instead, learning how to master speed drumming will take plenty of patience, practice, and skill.
Brief Summary
Learning how to play drums faster can take weeks or months, depending on your skill level.
Your first step is to determine exactly what your tempo goal is. Once you've done so, cut the beats per minute in half. This will give you your starting tempo. You should practice at this tempo until you're drum piece sounds clean.
Next, slowly increase the beats per minute by ten and continue to play at this tempo until the sound is flawless. You'll follow this ten beats per minute increase until you've reached your goal tempo.
Some experienced drummers also recommend learning how to play a little faster than your top tempo speed since a drummer's speed tends to increase when they're playing a live performance.
By practicing for an hour a day, you should reach your tempo goal in a matter of weeks, and all without sacrificing sound quality for speed.
Read on to find out how you can drum like a pro, how to increase your tempo, and how you can learn how to play faster and cleaner by using proven methods the pros swear by.
Is There A Quick Fix To Sloppy Speed Drumming?
No. Learning how to drum faster can take several months. You won't find any tricks you can use to increase your speed instantly and without effort.
There are some methods that are proven to work, but in order to get the hang of these techniques, you should expect to devote several hours a week to perfect your skills.
Nevertheless, these proven methods are designed to help you increase your speed in a shorter amount of time than traditional methods.
The goal of these techniques is to not only increase your speed but to also improve your control. When you use these techniques you'll develop a deeper understanding of where each note belongs, which means your playing will not only be faster, it will be cleaner as well.
Keep in mind, if you play sloppy, no one is going to be impressed with how fast you play.
Focusing on Speed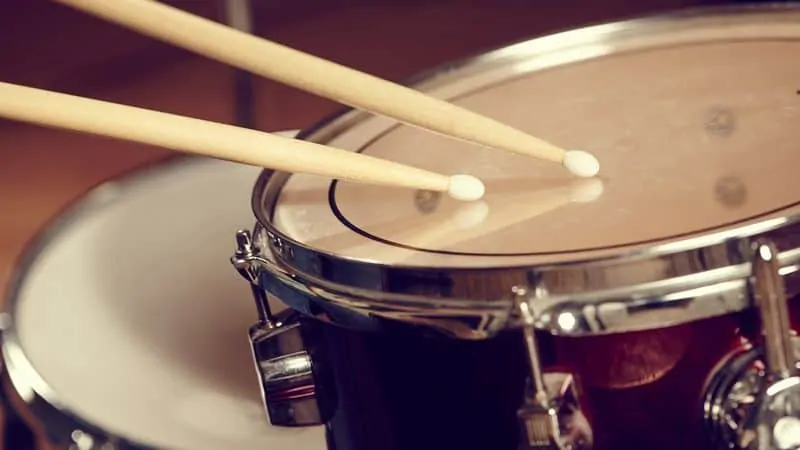 Determine exactly where you want to develop speed. Pick one thing, whether it involves a fill, beat, or rudiment. Take each transition or beat and apply the following steps.
Most musicians will work best with specific numbers and goals. if you don't know what you should focus on then you won't know how to improve your drumming technique.
If you're learning a new song, determine the tempo, then add ten to twenty beats per minute in order to gauge your speed goal. If it's a fill or rudiment, then determine the top speed based on where it will sound the best.
Rely on a Metronome
If you're struggling to increase your drumming speed, then a metronome can be your best friend. It's a very effective tool that you can rely on to help you increase your speed without sacrificing sound quality.
Start off by taking your goal tempo and cutting it in half. This should be the starting point. Begin here even if you feel that you can play faster.
It's crucial that you play in slow motion because it can allow you to develop muscle memory and learn the patterns. This way, when you increase the speed, it will feel natural and will be almost automatic. Avoid increasing the tempo until you can play the piece flawlessly at the slower tempo.
Increasing Speed
Once you feel like you're ready to increase the speed you should do so in increments of ten beats per minute. Most drummers tend to skip over this part because it requires plenty of patience to execute. However, it's important that you follow this practice for a cleaner, faster sound.
You can push the limits once you've reached your tempo goal. Play at least fifteen beats per minute faster than your goal speed. This will help to make playing your goal speed feel easier.
It will also be important if you're planning on a live performance. When a person plays in front of an audience they often play much faster because of the energy and excitement of the crowd. Because of this, it's always a good idea to learn how to play faster than what you're aiming for.
Related Questions
What Electric Drum Set Do You Recommend for Beginners?
If you're new to drumming or electric drum set use, then the Alesis Drums Nitro Mesh Electric Drum Kit can be a perfect fit. This drum set comes with a variety of sounds, offers a realistic sound, a simple layout, and a compact design that makes it easier to haul and transport.
Additionally, it's available at a price that's affordable for the drummer on a tight budget. To learn more, click here to read our electric drum set buyer's guide, which compares this set to other top models on the market.
Is This a Good Technique for Beginners to Learn?
We recommend first focusing on the basics of drumming before you try your hand at increasing your speed. Faster drummer can be a challenge even for experienced drummers and requires basic knowledge of drumming techniques.
If you'd like to learn more, then make sure you check out our article on how to play drums for beginners.
How To Play Drums Faster: Final Thoughts
Learning to play the drums faster and cleaner can be a challenge for drummers of all skill levels. However, for many drummers, the technique we have discussed here will be the most efficient and effective method when it comes to increasing speed without negatively impacting sound quality.
This process may seem very time-consuming, but in the long run, it can actually save you a lot of time. Just try to focus on the process. If your playing begins to sound sloppy then it may be time to decrease your playing speed or remain at a certain tempo for a longer period of time.