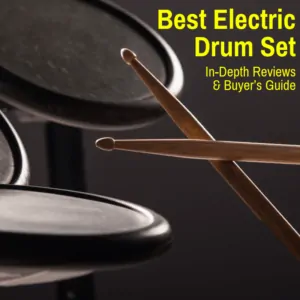 The best electronic drum set will give you access to a variety of cymbals, kicks, toms, and snares, not to mention percussion sounds.
These drum sets feature an almost limitless supply of drum kits, so you can easily select one based on the sound you're after.
These days, you can choose from a wide range of leading sets that come with impressive sound libraries, percussion controllers, and more.
But choosing the right set isn't exactly easy.
Many of the top-selling models are more geared toward the experienced drummer and some higher-end sets aren't exactly beginner-friendly.
However, there are intuitive electric drum sets out there that are perfect for beginners in need of an affordable set they can practice on, and for pros who want a set they can use for recording or live performances.
Are Electronic Drums Right For You?
Probably one of the biggest benefits of using electronic drums is the fact that the cymbals and drums come with volume control and a headphone jack so you can play your drums whenever you want.
With acoustic drums, you can't really control the volume, which can make it difficult to find the right time to practice without disturbing your family and your neighbors.
The ability to control the volume of your drum set with just the twist of a knob will also help to protect your ears from hearing damage, something that's more difficult to manage when you're playing on an acoustic set.
Recording Options
Some electronic drum modules come equipped with built-in recording options, which will allow you to playback your practice session and determine whether or not you're actually playing in time. The module can also be connected to a MIDI controller or PC so you'll have ultimate control over a recording. You can also use the main outputs to record with your favorite DAW software.
Adjustability
Some beginners may be intimidated by all the buttons, knobs and switches they'll find on more advanced models, but using an electronic drum module is actually very simple. By pushing a button or two you can tune every cymbal and drum lower or higher in pitch, alter a sound or put a custom drum kit together, in a matter of minutes.
Comparing the Top Electric Drum Sets
As you can see, there are many reasons why the electronic drum set is considered superior to traditional drum sets. The electronic drum set now offers a more realistic sound and a variety of sound options so you'll have creative freedom and access to a variety of training programs that can help you improve your timing, rhythm, and more.
But since their rise in popularity, many manufacturers have flooded the market with tech-heavy models, which can make it difficult for the beginner to narrow down their choices and find the perfect drum set that will work with their budget and meet their needs in terms of training programs, playing style, and recording options.
We made it our mission to search for the best sounding drum sets, reviewing each model, in order to determine if they have what it takes to make it onto our list of the best electronic drum sets on the market.
We ended up with five drum sets that hit all the marks.
Each set comes loaded with some great features including training modules, customizable drum kits, and an extensive sound library. Below you'll find a comparison chart that lists the similarities and differences between each set including the set's size, drum head type, price, and rating.
Electronic Drum Sets Comparison Chart
The 5 Best Electric Drum Sets On The Market
Below are summaries of the reviews for each model that landed on our top five list. Each set has something special to offer, whether it's the most sound and tone options, training modules, or customizable drum kits.
Best Mesh Drum Kit: Alesis Drums Nitro Mesh Electronic Drum Kit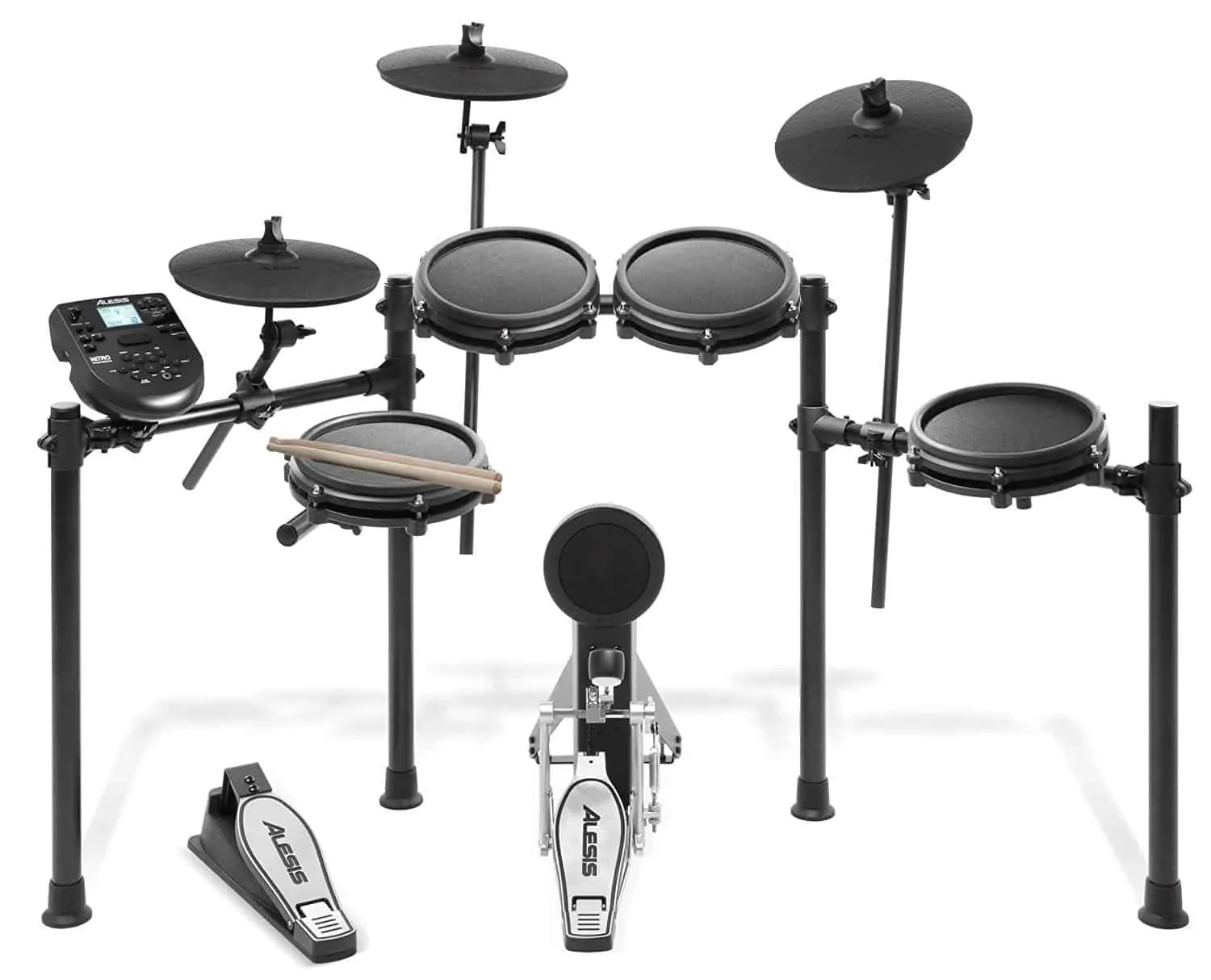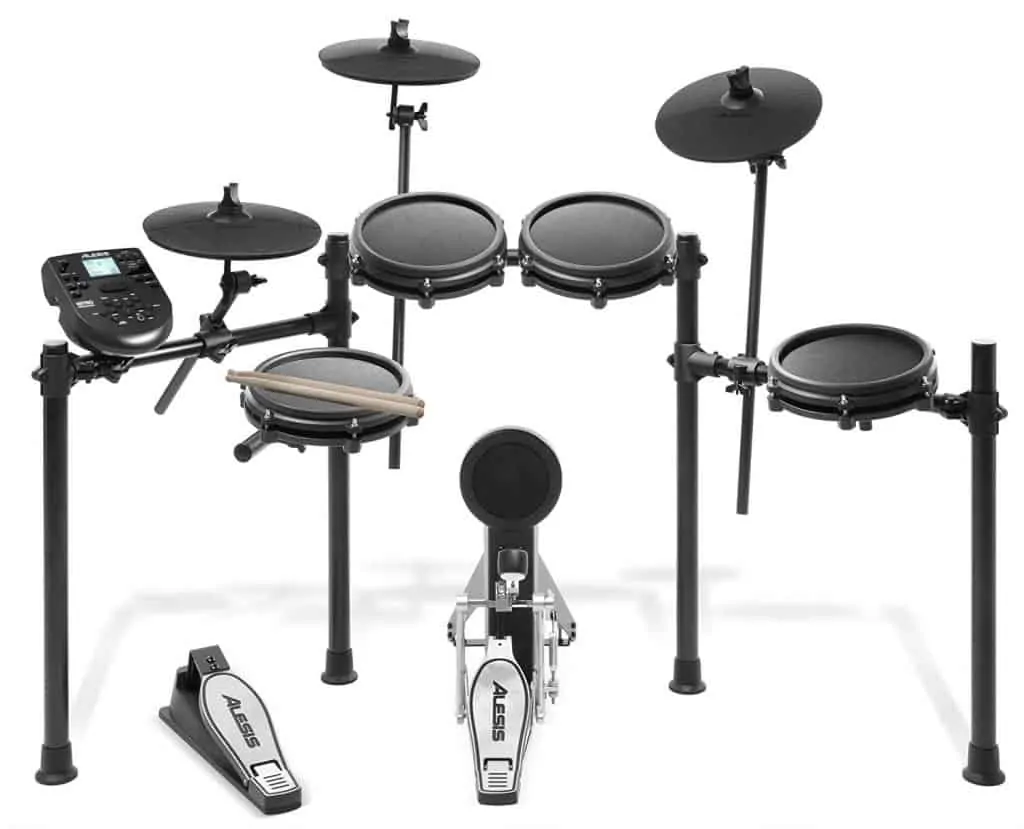 Our Rating: (5/5)
This electronic drum set by Alesis made it to the top of our list due to its realistic sound, mesh drum heads, hi-hat controller pedal, and beginner-friendly design.
This is an eight-piece set that comes with all the components the beginner will need to get started, including four drums, a kick pad, three cymbals, and a total of eight playable surfaces. Basically, while this is a set that's designed for beginners, Alesis didn't skimp on the quality.
Best Value For Money: Roland Entry-level Electronic V-Drum Set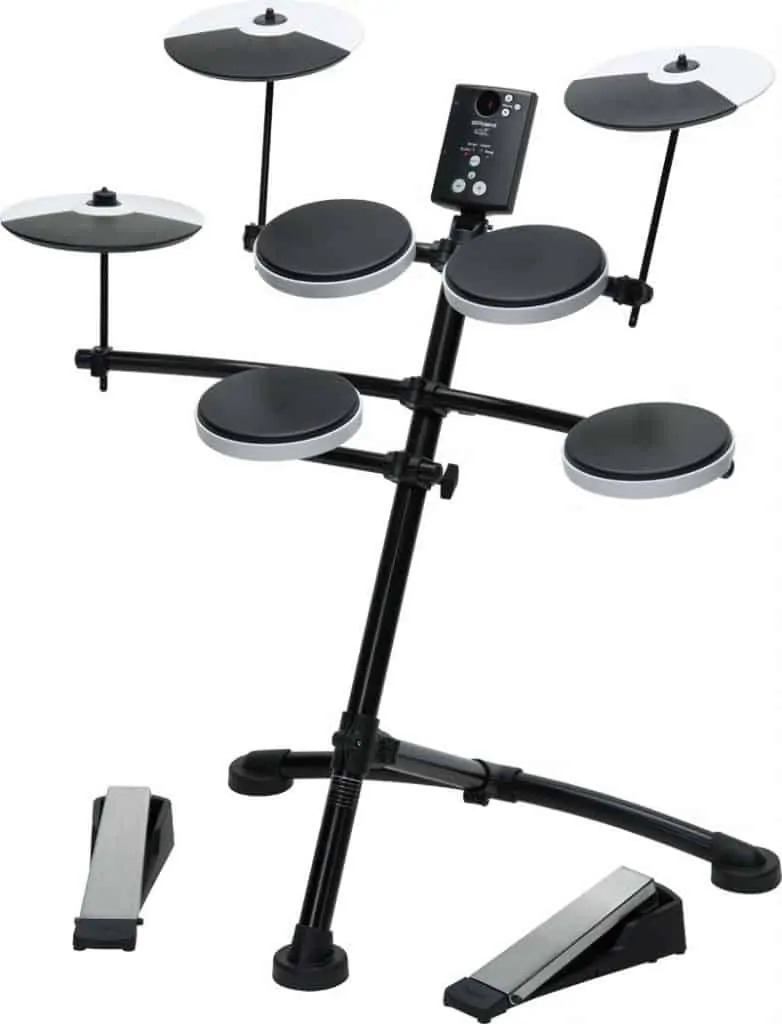 Our Rating: (4.5/5)
This is another entry-level electronic drum set that comes with a great setup and top of the line mesh drum heads. It also comes loaded with training modules, a wide variety of preset sounds, and a drum rack that's highly adjustable, so it's perfect for drummers of all sizes. The compact design also makes it perfect for homes that are short on space and unable to accommodate a full-sized drum kit.
Best Under $1000: Yamaha Electronic Drum Set DTX452K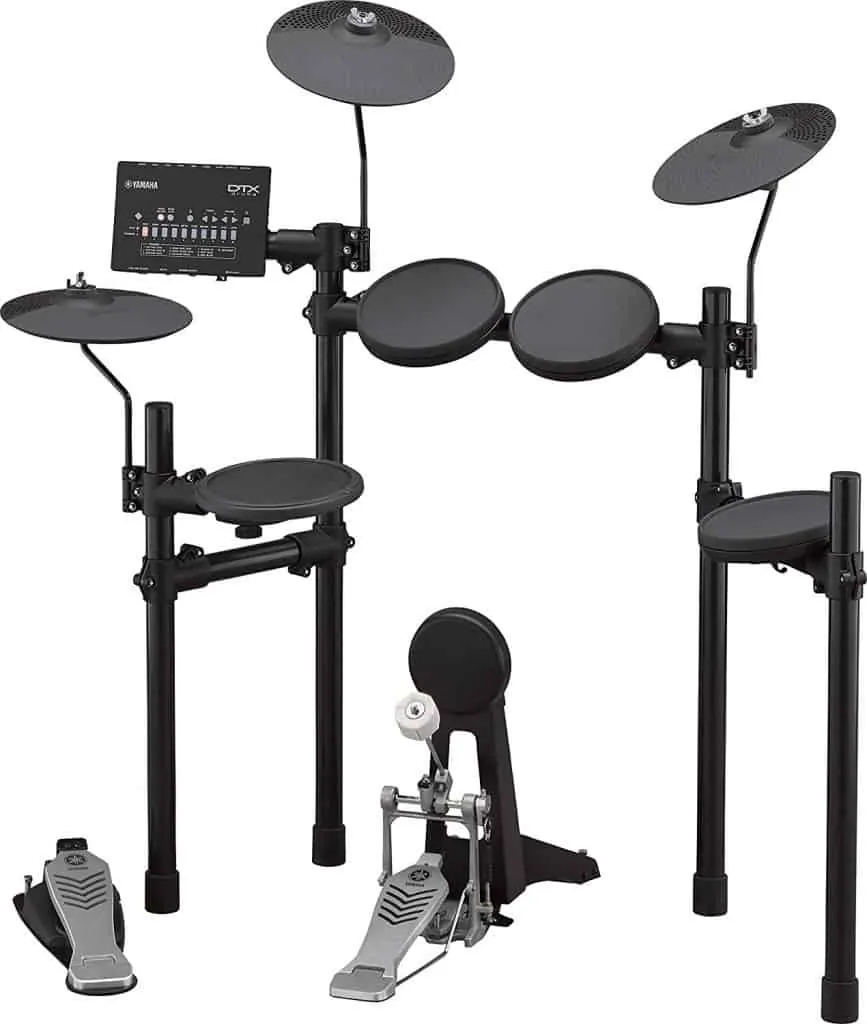 Our Rating: (4.5/5)
This drum set is very beginner-friendly and comes with ten different training modules to choose from, each of which can provide a fun and challenging training session that will motivate you to keep at it. It also features ten preloaded popular tracks that you can play along with, and responsive rubber drum pads that provide the type of realistic sound all drummers are looking for in an electronic drum set.
Best For Recording: Roland TD-17KVX Electronic Drum Set Bundle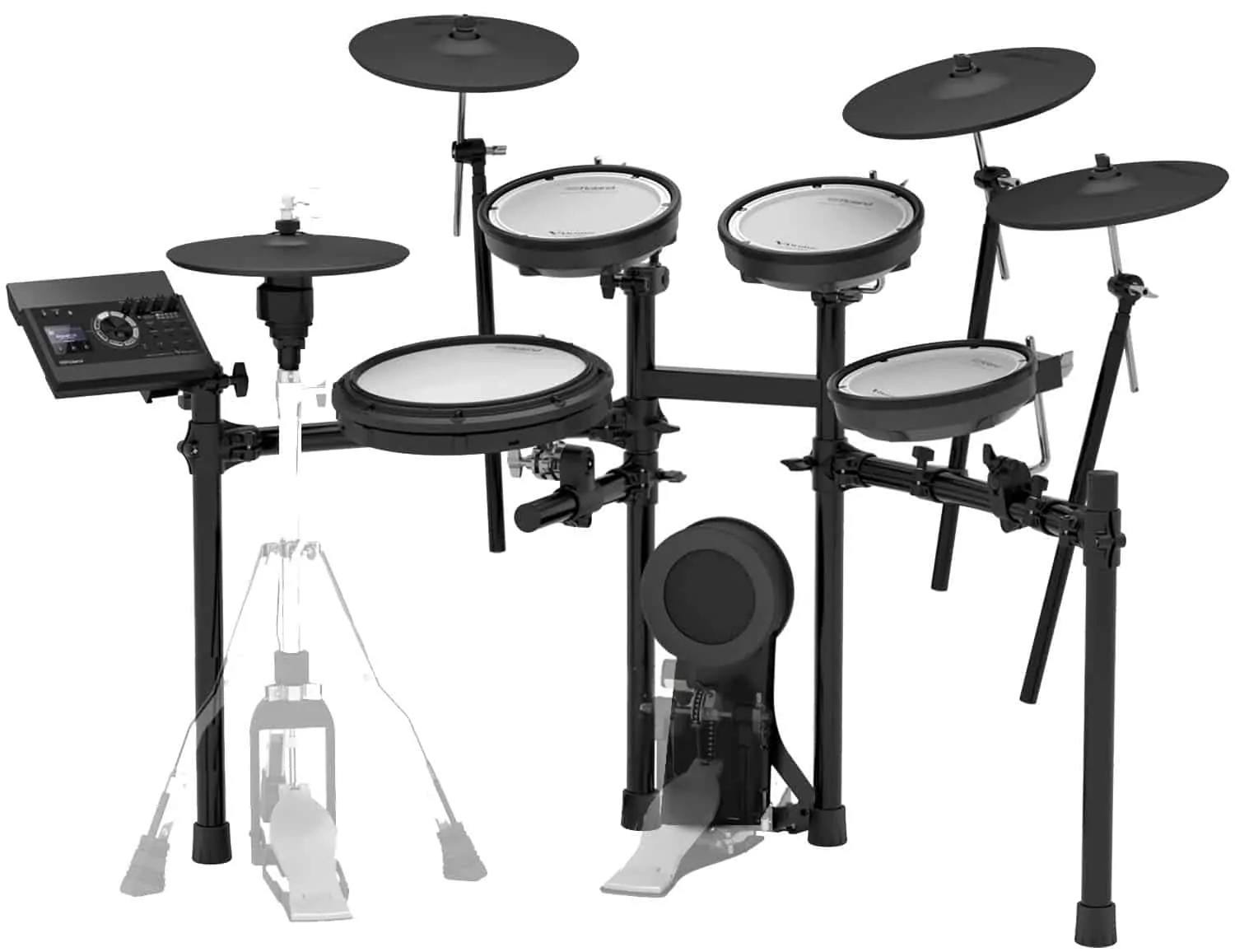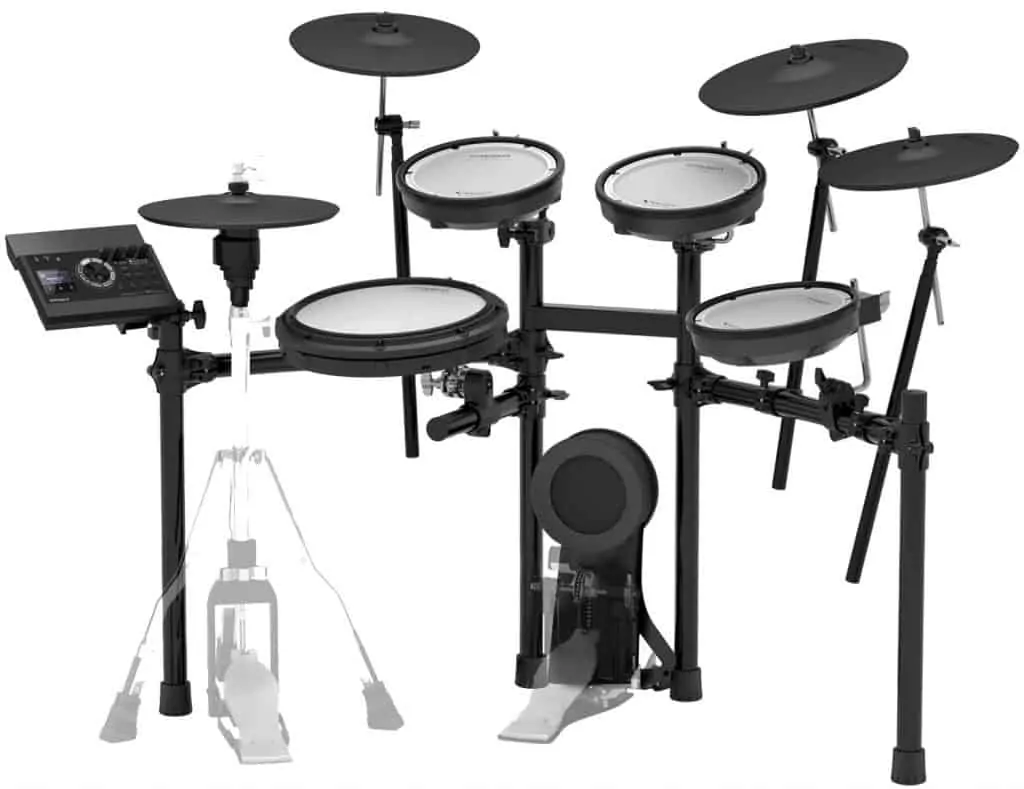 Our Rating: (4.5/5)
This set by Roland is perfect for drummers of all skill levels. It's designed for home use, in-studio use, and live performances. Basically, this is a drum set that can do it all.
Because it comes loaded with plenty of training modules and features a simple layout it's also considered very beginner-friendly. Offering an eighteen-piece setup, it's also the largest electronic drum set we reviewed and one that comes with all the bells and whistles the serious drummer could want.
Best For Kids: Carlsbro Electronic Drum Set CSD120XXX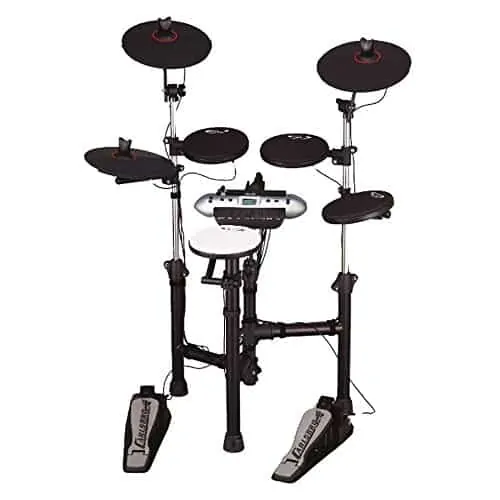 Our Rating: (4.5/5)
Carlsbro shows us that learning how to play drums as beginners doesn't have to be complicated. Their basic setup and training modules make this set perfect for beginners.
The compact design also makes it a great option for homes that are tight on space. Additionally, the lower price and portable setup make this budget-friendly drum set worth a second and third look.
Electronic Drum Set Buyer's Guide
An electronic drum set will allow you to explore a whole new sound and learn how to play drums faster, thanks to its versatile design, adjustability, and volume controls. Unlike traditional drum sets, now, you can easily add sound effects, delays, and reverb to any performance.
Regardless of the setting, these kits provide several sound options to choose from, which is what makes them a great choice for the pro drummer who enjoys playing a variety of genres.
These sets can also make it easy to switch up your playing style and essentially dial your drums in to match any type of sound whether it's rock or jazz. Since these sets don't require you to mic up your drums, setting and breaking them down is a much faster process.
You also won't have to haul quite as much gear. The lack of mics will prevent feedback and sound bleeding as well. Now, you can precisely adjust the drum's volume, which will allow you to practice and play any time of the day or night, without waking the neighbors or being forced to adhere to the noise rules in your home.
Versatility
Editing your performance is also a breeze. You can adjust the sound and timing to match any track, or edit a note or two of your performance thanks to a set's sound library. You can record your performance via MIDI data, so editing a performance will only take a few minutes.
In a professional environment, these drums can plug right into a mixing board. No longer will you have to arrive an hour or two early to set up your drums and mics in order to get the right sound.
Space-Saving Design
These drum kits are highly portable and compact, especially when compared to a traditional drum set. If you don't have a truck or a lot of floor space to work with then an electronic drum set can be the answer.
Beginner-Friendly
While some electronic drum sets do feature a complicated setup and may not be the most intuitive, once you've learned how your set works you can take advantage of many of the built-in preset drum patterns. These can be utilized by the beginner who can't afford lessons.
If you're new to drumming, you can drum along to these patterns in order to help improve coordination and muscle memory. Some models also come with learning programs and tools that you can rely on to improve your basic drumming skills.
USB and Aux Inputs
Drum sets with Aux inputs and USB connections allow you to plug in iOS devices such as iPads or even MP3 players. These external devices can also help you brush on your drumming skills, allowing you to drum along to your favorite tracks. You can also use these ports to plug in your PC and use your favorite music editing programs.
Electronic Drum Sets in Action
Most sets will consist of a trigger module or interface and the trigger pads. The trigger pads are made out of mesh or rubber. Rubber pads feature a transducer located inside. The woven or mesh heads have transducers installed in drum shells that are also mounted internally.
Both types of pads function in the same manner, regardless of style. When the drummer hits the trigger pads, the transducer transmits the electronic message, sending it to the module, which will play the correct note based on the channel.
When the pads are hit harder, an additional signal is sent to the interface to increase the volume of the drums. When you hit the pads softly, they will produce a much quieter sound that's designed to mimic the sound of traditional drums.
Higher priced models are designed to produce subtle sounds that can precisely mirror a player's technique. Although some lower-priced competing models also possess this ability, they don't offer the type of realistic sound that a professional drummer is looking for.
Hybrid Electronic Drum Sets
A hybrid set consists of cymbal and drum pads that are equipped with a variety of sensors located directly beneath the surface. The goal of any trigger pad is to accurately reproduce the sounds that are created when different parts of the pad are hit, whether it's the rim or snare.
Unconventional Sound
Because these sets are electronic, playing will not be limited to the same type of percussion and conventional drum sounds.
These days, the electronic drum set can trigger lightning, screaming guitar, and funk bass sounds, and all with just your drum sticks and some drum pads.
There are many sound options to choose from, which you can select for each drum module. You can also use a MIDI controller to trigger different sounds from a keyboard or the drum's sound module. Top of the line modules also allows users to upload new sounds from an online sound library.
Drum Set Components
Created back in the late 1970s, modern electronic drum sets have come a long way. New sets offer a more realistic feel and a wider range of sound options.
The mesh heads and trigger pads can contain up to three sensors. Both the trigger pads and mesh heads are available in single, dual, or triple head designs. Hitting one of these sensors will trigger multiple sounds depending on what part of the cymbal or drum is hit.
Cymbal Pads
All electronic drum sets will come with cymbal pads, which are typically shaped like traditional cymbals. Some cymbal designs will also offer the ability to choke the cymbal, or they may feature inertia or a type of swinging motion.
If you're looking for a more realistic sound then go with two or three zone cymbals with separate triggers. This style provides multiple playing surfaces which will work well for different playing techniques.
Rubber Trigger Pads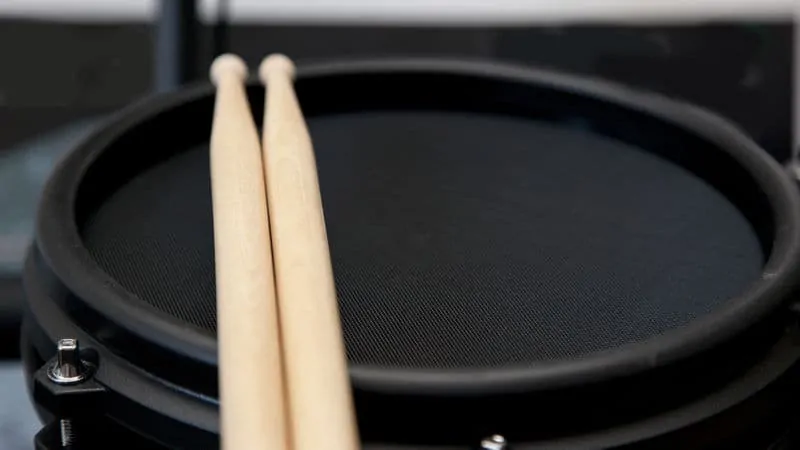 All rubber pads in the set will have the same feel, unlike the electronic mesh heads or even traditional acoustic drum heads. This type of consistency in feel makes them a better choice when it comes to sustaining tones or triggering loops. The rubber pads are commonly found on lower-priced drum sets.
Mesh Heads
The mesh heads consist of a tightly woven surface that has a response that feels more like a traditional acoustic drum head, however, the rebound is enhanced slightly, which is what tends to make them much easier to play, when compared to traditional drums.
Additionally, the mesh heads can be tuned based on the user's preferred amount of tension, with the use of a drum key. These heads are also considered more sensitive compared to rubber pads. Unfortunately, because they're more responsive and offer a more traditional feel and improved rebound, they often come with a higher price tag than rubber trigger pads.
Hi-Hats
The hi-hats you'll find on modern electronic drum sets have also undergone a total redesign. Now, the hi-hats feature a multi-zone design that allows for improved range and offers a more realistic sound.
Sound Options
You'll soon realize that higher priced sets will offer much more in terms of flexibility, especially when it comes to the module and sound options.
High-end modules come with standard drum sounds but also feature special effects, wood blocks, bells, percussion instruments, and non-percussion instruments. They will also allow you to create or edit your own unique sounds, while lower-priced models are very limited in terms of sounds and the included instruments.
Drum Patterns
Each drum module features a selection of drum patterns that are often short drum parts or two-bar patterns that relate to specific music styles. Like we briefly touched on earlier, these patterns can be utilized as important learning tools that can help the beginner perfect their timing, groove, and playing style.
The Importance of Choosing a Drum Set with a High-Quality Module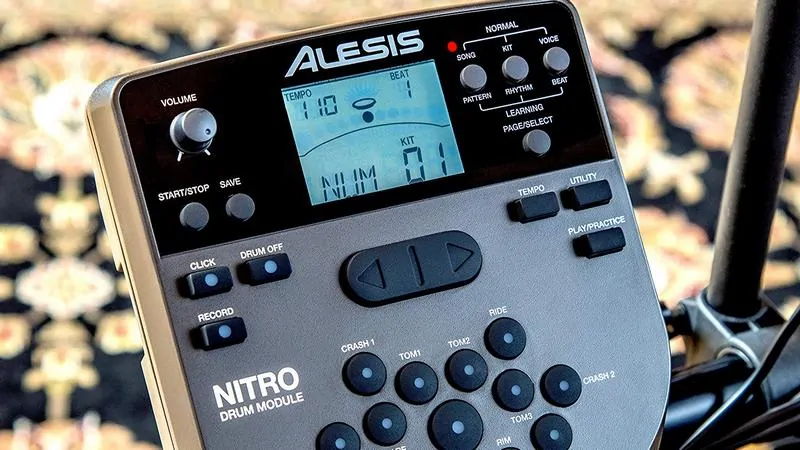 As we mentioned earlier, the drum or sound module is the brain of an electronic drum set.
Top of the line drum modules will offer accurate and fast trigger responses that will give the player the same type of feedback that they can expect from a traditional drum set. Basically, the module should accurately respond to nuances in the drummer's playing technique that will closely mimic their playing.
The type and quality of a module tends to vary and many feature a variety of special effects and instrument options in addition to percussion and drum sounds.
Some even come equipped with independent volume levels for every trigger. This allows you to create a custom studio or live mix.
In terms of style, many modules will allow you to create your own custom kit by choosing from a variety of cymbals, kick drums, snares, and toms that are contained in the module.
When you're shopping around for a new drum set, search for a drum module that has a high user rating for its ability to respond accurately to where the drummer is playing on the cymbals or snares.
Top of the line models will be able to reproduce the drummer's playing dynamics. Its ability to produce realistic cymbal sounds will also be very important. Brush sounds and delicate swells must be accurately reproduced as should crash shots.
You should also expect the sounds from the hi-hat to come off as smooth during a transitional move from open to closed. Any module worth its salt will be able to accurately reproduce hi-hat sounds in every position whether it's slightly open or closed.
Expansion Options
If you're looking for a set that will allow you to expand your kit and add more triggers and pads later down the line, then you need to look for a model that comes equipped with enough connectors.
A variety of USB ports will allow you to send MIDI data to your computer or digital workstation. This can provide you with access to a wider range of software. An audio input for a CD player or MP3 player can allow you to practice along with your favorite tracks.
If your drum set module has several outputs then you can use it to send your last session to a recorder and a mixer, simultaneously, which can be important in a studio setting. You also want to ensure that the module comes with outputs that are compatible with the type of amp system you have or plan on buying.
Learning to Play on an Electronic Drum Set
If you're used to playing on a traditional drum set then making the switch to an electronic set will definitely take some getting used to. So, what are the real differences between the two types of drum sets and what can be done to ensure a smoother transition?
The stick response and the rebound are very different from the type of playing experience you've normally enjoyed with an acoustic drum set. For some drummers, this switch will be a major adjustment and one that will involve altering their playing technique.
However, just like with a traditional drum set, consistent practice will help the drummer to learn how to adjust their playing style to an electronic drum set and enjoy a playing experience that can take their sound to a whole new level.
Buying An Electric Drum Kit: Final Thoughts
The best electronic drum set can totally change how you play drums.
These drums are not just designed to allow the user to experiment with new sounds, they also come loaded with training modules that can help the beginner learn how to improve their rhythm and timing, or they can even help the seasoned drummer perfect a new technique
Many of these drum sets are very versatile and allow you to customize your own drum kits so you can experiment with new sounds and techniques.